My darling daughter turned 10 this week and I thought I'd express my love by spending time in the kitchen making the exact cake she asked for,  a double layer chocolate cake with alternate layers of chocolate and vanilla ice cream.
I rolled up my sleeves, cleared my schedule and went to work on the gourmet birthday cake project that spanned over three days. Ok maybe not  gourmet but very yummy.
I could have bought a cake, but for me cooking is how I  express my love.  In my books, whether it's a 10th birthday or an ordinary day I want the kids to have a healthy lifestyle.
I started with the chocolate ice cream layer.  Then the vanilla layer which is the top layer, you can see I added a little food coloring to make it pink one of her favorite colors.
I don't have fancy gadgets and things like ice cream makers etc. which may make life a little easier, but aren't needed to make a cake with love.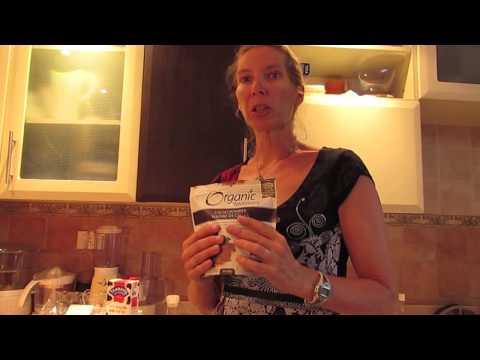 Hiya, in the video I said I'd be back and here I am.  My camera battery died so I couldn't finish the video.  That's ok, I'm sure you're the forgiving type.
Click here for the recipes I used to make the Yummy Chocolate and Ice Creams
When you make ice cream you don't have to make it into a cake, this is just one idea, I often store it in the freezer in a reusable container.  What I love about homemade ice cream, apart from the fact it tastes far better than store bought, is that there are no stabilizers or unpronounceable ingredients in it.
Part II the chocolate cake and icing will follow.  Until try whipping up a batch of your favorite ice cream add fruit and experiment it's fun, nutritious, delicious and part of a balanced diet.
For more tips on healthy cooking ideas and recipes join our mailing list.